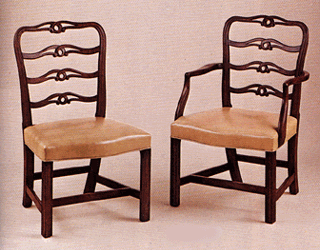 Dining Room Side Chair

A reproduction of an 18th Century Philadelphia antique, this chair is a fine example of the Rococo style.


Made of mahogany, this chair features interlacing ribbons to support the back, molded front legs with chamfered inside corners, swept back rear legs and a serpentine curved front rail. Can be used as a dining chair or by itself as an accent piece.

H - 37 1/2"
W - 22 1/2"
D - 23 3/4"