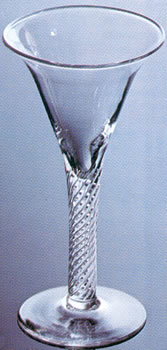 Air-Twist Wine Glass

Hand-formed, mouth-blown lead glass stemware. Spiral air-twist form was developed in the 18th Century. In making this stemware, a wire is introduced into the molten stem to form a channel. Several channels are successively formed and then combined and twisted into a graceful spiral by the use of wooden paddles and other special tools by master craftsmen.

Each piece has it's individual characteristics, reflecting the skill of the artisan who produced it.

This particular set was made by Royal Leerdam under license to Colonial Williamsburg..


H - 6 1/2"